Christmas Chocoholic Group Tour (for 10 people) Voucher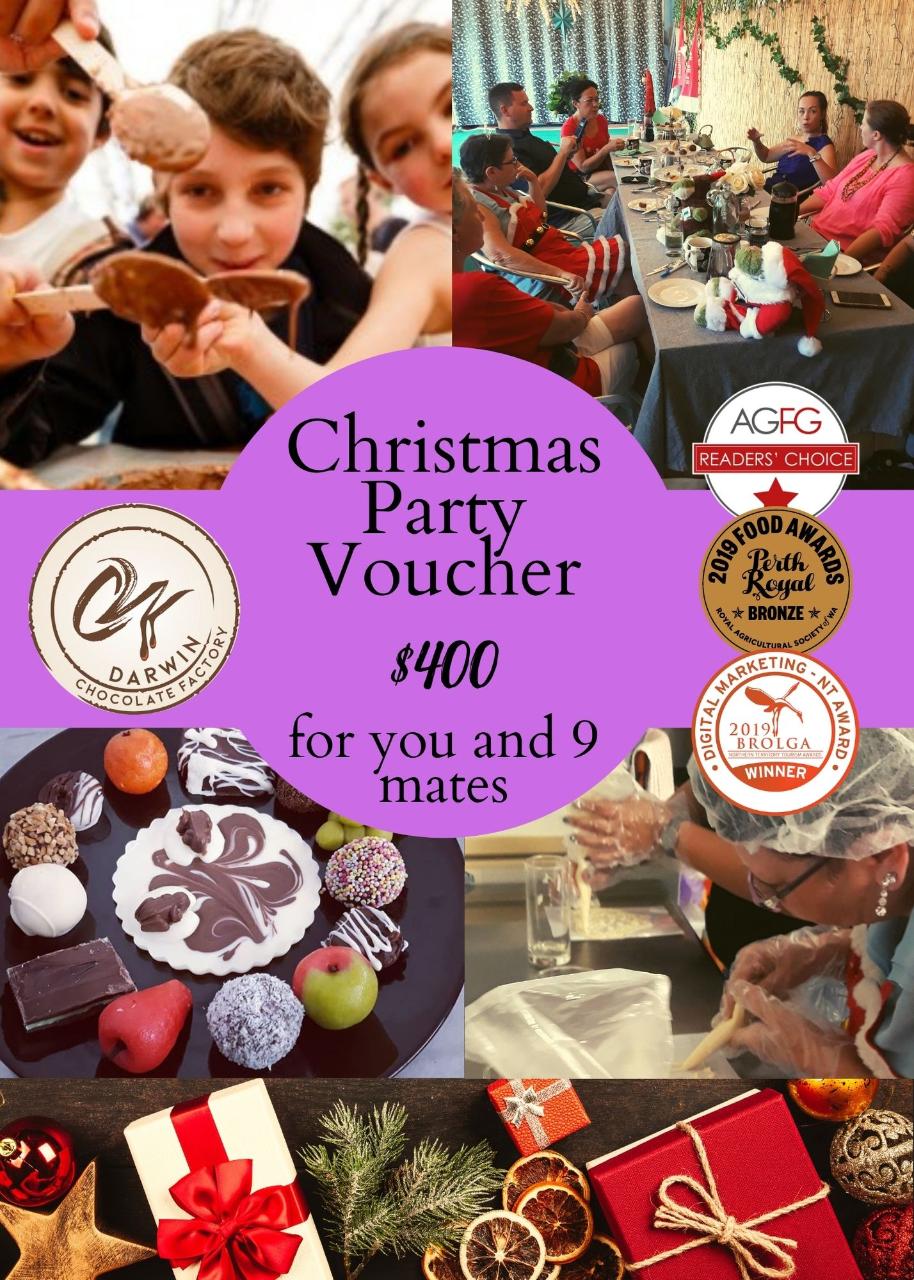 기간: 120 분 (대략)
위치: BERRIMAH, NT
상품 코드: P1CTZZ
Enjoy a Christmas chocolate party indulgent experience for you and 9 mates in CW Darwin Chocolate Factory.
CW Darwin Chocolate Factory is Darwin's only multi-award winning chocolate factory and is tourism accredited

PACKAGE INCLUDES:
For up to 10 Adults (or adults and kids max 10)
Chocolate Workshop - Design and make your very own chocolate with our chocolatier in CW Darwin Chocolate Factory.
Chocolate Factory Tour.
Take home or eat your chocolate design in our chocolate secret garden.
Then enjoy a chocolate tasting experience in our chocolate secret garden where you will enjoy a selection of our chocolates from our chocolate shop and chocolate fondue. We've also thrown in a Christmas decko package and a little chocolate take home Christmas gift for each attendee.
Cold Drinks, Pots of Tea, and/or Pots of Coffee
TOUR TIMES
Tours start at 10:00 am , 12 pm, 2 pm Wed to Friday
Tours start at 10:00 am, 12 pm and 230pm Saturday (except when chocolate workshops are scheduled)
Recommended arrival 15 minutes prior to tour.
CHECK-IN LOCATION
CW Darwin Chocolate Factory, U13/17 Willes Road, BERRIMAH, find us on Google Maps.
FREE parking within designated parking areas.
"Lock IT or Lose IT".
AGE LIMIT
We can take children aged 5 and over.
Kids 5 and younger will need assistance from an adult.
WHAT IS INCLUDED
Free parking
Food safe PPE
Cold water
Chocolate Chocolate and more Chocolate
Chocolate Workshop
Chocolate Tasting
Take home Christmas Chocolate Gift
Cold Drinks
WHAT TO BRING
Closed-toe shoes are required for the factory.
A sense of humor
GOOD TO KNOW
Be sure your clothing and personal items will withstand the chocolate
splashes!
Please bring a copy of your booking confirmation.
Check in 15 minutes prior to scheduled tour commencement time.
WHAT TO KNOW MORE?
Call us on 0468 615 608 and let's make your experience smoother.